Artists watercolours paint tubes Sennelier wooden box set 10ml 98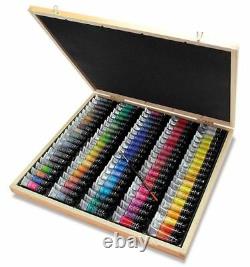 Artists watercolours paint tubes Sennelier wooden box set 10ml 98. Sennelier 98 watercolour tubes wooden box set 10ml The roots of Sennelier watercolors are to be found in the Impressionist school. At that time, painters drew their inspiration from nature and set out to reproduce natural light. Watercolor technique offered spontaneity, lightness of touch, fluidity and transparency allowing a quick translation of a particular light, vibration or shape.
Paul Cézanne, for instance, produced forty or so watercolors of the Mont Sainte Victoire in Provence. Earlier on in England and on the Normandy coast in France, William Turner had turned painting in watercolors as an art form in its own right and had even managed to produce genuine masterpieces.
Since then watercolors have become an established part of the history of painting. Artists love them because of their radiance and their spontaneity. It is such a pleasure when the painter plays with the light of the paper and the brightness of fleeting, intense pigments as they glisten, come together and swirl around under his brush producing a whole host of different effects. A watercolor tailored to the needs of today's artists. We spent a long time working with many different artists to produce L'Aquarelle Sennelier.
We consulted watercolorists from all over the world. A panel of professional painters carried out "blind" tests on a number of formulations. They clearly revealed what they were looking for: a watercolor which is luminous, brilliant and intense.
L'Aquarelle Sennelier fulfils their every wish. Honey has many virtues: a symbol of light and sun, an emblem of poetry and science and has been used since Ancient times as a remedy for dry skin and to help heal wounds. This nectar is used in L'Aquarelle Sennelier not only as a preservative but as an additive giving incomparable brilliance and smoothness to the paint. Always striving for excellence, Sennelier has reworked its watercolor formula with increasing the amount of Honey in the paint to reinforce the longevity of the colors, their radiance and luminosity.
Watercolors Made in France using traditional methods. L'Aquarelle Sennelier has been produced in the same way for more than a century using the best pigments and top quality Kordofan Gum Arabic as a bonding agent. This mix of natural ingredients produces colours which have a smooth, bright texture and offer lively, colourful shades.
The Gum Arabic and honey combination offers incomparable quality of application, producing superb washes. Then, this base is mixed with pigments and carefully ground. Sennelier makes sure to wet the pigments in purified water (with no mineral salts) for 24 hours before mixing them in with the bonding agent. This improves the way in which the colours and bonding merge together, in turn bringing out the full beauty of the colours.
Sennelier watercolors are ground in the traditional way using grindstones rotating slowly so as not to heat up the paste. This operation is carried out in several stages until the paste are as fine as possible thus getting rid of any particles which might impair the perfection of the wash. This exceptional and very high quality watercolor will help you make your works even more powerful due to the liveliness and purity of the hues. The colours mix together perfectly, offering superbly subtle shades. These smooth, intense colours will be a genuine pleasure to paint with.
The addition of honey will allow the tubes and pans of Sennelier watercolors to stand up to the passing of time and each time you will paint with them you will be able to accurately translate the diversity of light shape and hues. Beginners are artists that are looking for a nice quality product that will give them a good taste of what the medium is like to work with. Artists that are starting to get into the medium, still learning but wanting a higher quality finish and will enjoy high quality products. Student/Studio & Professional are the highest quality product lines which are for artists that understand the medium and require the highest quality finish.
Normally able to get the higher asking prices for their work. Beginners & Student/Studio & Professional are designed for all levels of artist. We make every effort to take images to show the true colour and finish of the product. However, due to lighting conditions, screen resolution and manufacture changes the representation of colour, texture and finish may vary from screen to screen and on different devices.
Images are correct from our first listing date, manufacturers' may update product design or contents without notice. We use our own images of the products (95% +) we sell or those offered by the manufacture that we feel are of high quality and we have the right to show.
We do not grant permission for our images to be used as is or to be adapted by any other person. Use of our images is an infringement of intellectual property rights and action will be taken against persons that use them. Having studied fine art at University and travelled extensively taking in all styles and techniques of art, passing the knowledge and ideas where he can. For the last 10 years local art shop has been based in the old family shop, run by Marks grandparents for over 40 years before retiring. Local art shop aims to offer the best quality products for the level and price point you choose. With price being so important to a lot of eBayer we recycle packaging materials and waste mount card from our picture framing services to help limit the additional costs in properly protecting your goods. With a range of packaging which include padded bags, cardboard envelopes wraps and boxes, as well as when necessary bubble wrap. We work on how my mum would pack it, as everyone knows mums are always right and know how to wrap things best.
We still look to be amongst the cheapest priced sellers only with the best packs items. We are more than happy to help you with any questions you have on any of the items we sell. We cannot guarantee we can answer them, we have a wealth of knowledge and databases on items we sell and their capabilities, so should be able to give you some ideas or our thoughts. We aim to reply as quickly as possible. Mondays 9 - 12, Tuesday to Saturday 9 - 5.
Outside these hours messages are not frequently monitored. (Monday to Friday excluding public holidays).
For heavy and larger items we use a courier. The item "Artists watercolours paint tubes Sennelier wooden box set 10ml 98" is in sale since Thursday, November 9, 2017. This item is in the category "Crafts\Art Supplies\Painting Supplies\Paint\Watercolour Paint".
The seller is "artistownwork" and is located in Nottingham. This item can be shipped to United Kingdom.
Brand: Sennelier
colour: Assorted
MPN: N131669.98
medium: Watercolour
Type: Watercolour Paints
Sub-Type: Sets