Bach Flower Remedies 10 ml Wooden Box Set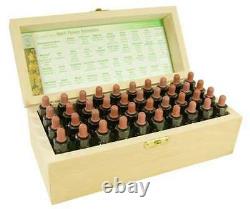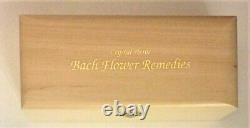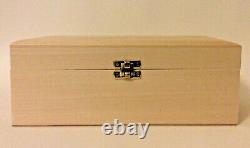 An attractive and sturdy complete wooden box set of Crystal Herbs Bach Flower remedies. Contains 10 ml sealed dropper bottles of all 38 remedies and 2 x10ml bottles of revival/rescue remedy.
Hand made by Crystal Herbs, a leading UK producer of the remedies, using the methods first developed by Dr. About the Bach Flower Remedies. Bach Flower remedies, also described as essences, are a natural and holistic treatment based on principles similar to homeopathy. They are used to treat emotional and mental states such as fear, anxiety and guilt and are made from wild plants through methods developed by Dr.
Edward Bach in the 1930? As a medical doctor and homeopath, Dr. The importance of mental and emotional well-being in the prevention and treatment of disease. He believed that the body is able to heal itself and that the role of treatment is to prompt our own natural mechanisms for healing and balance. He identified 38 negative emotional states which he believed could lead to imbalance in the body. He then carefully chose specific wild plants to restore each negative emotion to its positive aspect.
He grouped these 38 emotions into seven groups which correspond to the psychological causes of imbalance and illness. The reference guide below shows the negative and positive state for each remedy and will help in selecting the right ones to use.
A five-flower combination remedy, first formulated by Dr. Bach, and designed to restore calm and to alleviate the effects of dealing with a shock, crisis or emergency. It contains the remedies Star of Bethlehem, Clematis, Impatiens, Cherry Plum and Rock Rose.
Research has shown that the Bach Flower remedies are safe to use for adults, children and animals. They have no undesirable effects, are non-addictive and can be taken alongside other medication or treatment.
The remedies contain a small amount of alcohol which can be removed if desired. Simply add the drops to a glass, pour on boiling water and leave to cool. This will cause the alcohol content to evaporate. Select the remedy or remedies to use according to how you are feeling. You can select up to eight remedies at one time, depending what is needed.
If the wrong remedy is chosen it will simply have no effect. Use our quick reference guide below to help you with selection. How to take the remedies. For short term use take 2 drops of the selected remedy or remedies, either directly on the tongue or in water at least three times a day, more frequently if needed. For longer term, and more economical, use just add two drops of each remedy to a 30 ml dropper bottle and fill with water, using spring water if available. Add a few drops to water and drink throughout the day either until the bottle is finished or issues are resolved. For revival remedy a higher minimum dose is needed as this is a combination remedy. Take 4 drops on the tongue or in water as required. Fear of loss of control. Fear or dread with no known cause. Over-caring & worrying about others. Peace of mind, trusting the process of life. Indecision, doubts own judgement, easily led. Difficulty choosing between two options.
Resolve, mental and physical strength. Uncertain of path in life. Lack of interest in present circumstances. Failure to learn from experience, repeating mistakes. Mental, physical and emotional balance.
Unhappiness or gloom often for no known reason. Aloof or withdrawn, desire to be alone. Find it hard to be alone, talkative. Oversensitive to influence & ideas. Hidden worries or torment, often behind a smile.
Sensitive to change and outside influence. Protection from outside influence, constancy.
Over-obliging, find it hard to say no. Feelings of hatred, jealousy or revenge. Lack of confidence, expects to fail. For those who struggle on regardless. Feel the need to be cleansed in some way, shame. Overprotective, clinging to those they care for. Over-enthusiasm for a cause, fanatical. The item "Bach Flower Remedies 10 ml Wooden Box Set" is in sale since Wednesday, February 24, 2021. This item is in the category "Health & Beauty\Natural & Alternative Remedies\Other Natural Remedies". The seller is "sunflowerproducts" and is located in Llanidloes. This item can be shipped to United Kingdom.
Country/Region of Manufacture: United Kingdom
Department: Unisex
Main Purpose: Mental Health
Formulation: Drops
Administration: Oral
Unit Quantity: 40
Type: Herb, Essences
Features: Ammonia-Free
When to Take: As required
Active Ingredients: Water, Organic Brandy (27%), Plant Extracts
Unit Type: 10ml
Volume: 40 x 10 ml
Ingredients: Water, Brandy, Plant extracts
Item Weight: 1.44 kg
Brand: Crystal Herbs
Dosage: Please see description