Eden Ahbez Edens Island Wooden Box Set New Large Tshirt Vinyl Record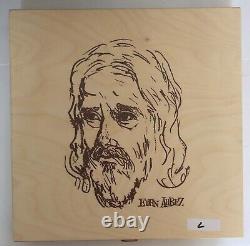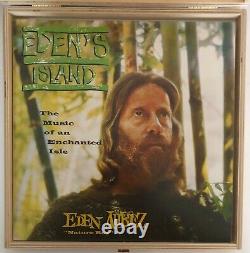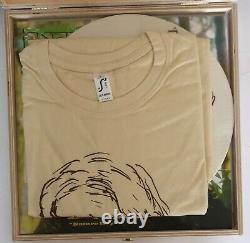 Title: Eden's Island: The Music Of An Enchanted Isle. WOODEN BOXSET EDITION: Double LP housed in wooden collectors box with a 24-page booklet, featuring multicoloured forest green/yellow leaves vinyl, and includes an exclusive t-shirt (IN SIZE LARGE), slipmat and poster. One of the world's most important Exotica, Jazz and Psych albums. Includes 20 almost unreleased bonus songs.
Restored and remastered from original master tapes by Grammy nominated sound engineer Jessica Thompson. The ultimate reissue of one of the world's most important albums in the field of Exotica, Jazz and even Proto Psychedelic Music from 1960 - and the first official reissue ever! This deluxe multicolored forest green/yellow leaves 2LP is housed in a wooden collectors box with a 24 page booklet, an exclusive t-shirt, slipmat and poster. This reissue of Eden Ahbez' sole album includes 20 almost unreleased bonus songs from different sessions.
Carefully restored and remastered from original master tapes by prolific grammy-nominated sound engineer Jessica Thompson. The artist Eden Ahbez was not only a skilled composer and performer who wrote the hit tune Nature boy for the classic 1940s crooner Nat King Cole but also a forefather and probably the sole inventor of the hippie lifestyle that became a world wide movement by the mid 1960s.
Co Produced by movie maker Brian Chidester, who now, after 20 years of research, completed the full time documentary movie As The Wind - The Enchanted Life Of Eden Ahbez. Now here we go with a project that can easily be labeled a mammoth. Who remembers Eden Ahbez actually, except for a couple of born too late retro hippies? Well, here we go with the story.
It is 1960, Rock'n'Roll has just lost a couple of its protagonists during this and the previous year, the time of the great balladeers has just begun, but soon will run out due to the new and exciting beat invasion. In US mainstream the tiki culture has reached a certain peak and is about to collapse, but still goes strong and with it comes the so called "exotica" music, a crossover between smooth jazz and swing, Latin grooves, haunting melodies that are rooted in the folkloristic sounds from different parts of this world, plus weird sound effects that often create a spooky jungle or dreamy island beach atmosphere. It can even bend your mind that far you would see palm trees growing out of your speakers and witness monkeys and parrots having fun in your room. Eden Ahbez, born in 1908, passed in 1995, a man living dropout and hippie lifestyle way before the movement became what people remember it to be in the mid 60s, a beat poet and composer who wrote the hit tune "Nature boy" that gave Nat King Cole his first big success in 1948, approaches the field of exotica music from a different point of view creating an epic concept album about an utopian society living in peace and harmony on an island far away from the modern western world as we know it.
And indeed we find many trademarks of the prototypical exotica music beginning with this relaxed groove combining easy listening swing and Latin patterns, peaceful, dreamy and even transcendental vocal melodies, tinges of folk music from around the world including powerful dances and a whole color palette of mind expanding sounds giving the whole music an even greater depth and width. The latter being created entirely with real instruments such as Eden Ahbez' wood-flute.
Some tunes are rather gentle and relaxed with the lyrics being narrated, which adds much to the epic feel of the album. Since this is a really unique effort, now "Eden's Island" alone is a masterpiece of proto psychedelic music and showcases the peak of Ahbe's creativity, but he did write and record music before and after, as mentioned above. And he inspired people along the way, he still does, even decades after his passing. When a young record collector named Brian Chidester found a picture of Ahbe with a youthful Brian Wilson of BEACH BOYS fame dating from probably 1967, he felt the urge to research and investigate deeply into the life of Ahbe, who was more of a mystical figure, obscured by the passing of time rather than the fairly well recognised allfather of the hippie lifestyle, without whom there would have not been such a movement at all and certainly no woodstock, not much psychedelic music and no such things. At least not in the way that they did happen. Chidester embarked on journey of more than twenty years that culminates in a movie, "As the wind: The enchanted life of Eden Ahbez", telling the story of one of pop culture's most enigmatic figures in full. Brian Chidester and his filmmaking partner John Winer now have not only gone wild in bringing the life of the first of all hippies to a wider attention, they have taken part in what is the main subject of my writing here, the ultimate rerelease of Eden Ahbez' first and only cult full length record, 1960's "Eden's Island (The music of an enchanted isle)" as I already described above in nearly all it's glory.
For it was only a third of what this ultimate edition has to offer. First of all the album has been carefully restored and newly mastered from the original master tapes, however one got hold of them after 60 years, while all other previous reissues that were mostly non legal ventures were transcriptions from old and beaten vinyls.
Grammy nominated sound engineer Jessica Thompson, an icon in the field of restoring and remastering old and often obscure yet cult recordings from Jazz to Punk to Afro Beat and great fan of Eden Ahbez, has done another marvelous job and probably this could become her most prolific and important venture. The other two thirds of the music on this reissue, which comes as a wicked double vinyl in gatefold sleeve in limited editions of different colours, is made up by those tunes hat Eden never properly put on albums, that remained in obscurity unbeknownst by man until today.
Jessica Thompson also did the mastering here and Brian Chidester co produced this treasure trove of musical jewelry, which expands Eden Ahbez' epic concept album style and also showcases his skills in writing accessible, yet unique proto psychedelic pop tunes that, as I mentioned above, lead your mind into a different world. The vinyl version includes a 12 size, 24 page booklet, while the CD version comes as double CD with 2 booklets. With so much passion put into the ultimate reissue of this album you can bet that the music world, the collectors and 60s music freaks, will be shaken to it's foundations.