Faber Castell Polychromos Pencil Wooden Box Set of 120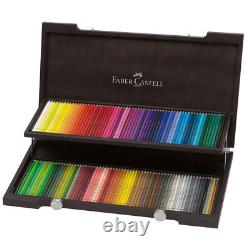 Faber Castell : Polychromos Pencil : Wooden Box Set of 120. There are no limits to your imagination when you use POLYCHROMOS artists colour pencils. The Faber Castell Polychromos are professional artist's quality colour pencils.
They come in a wide range of colours which are made with pure pigments giving you a creamy soft stroke with a high level of covering power and light-fastness. Each led is embedded with SV bonding which strengthens the lead and is break-resistant, providing a very sharp point for detailed work. The oil based led is water resistant, smudge proof and can be easily blended and layered. They can be used on paper, card, wood, fabric and more. Set of 120 includes: White, Ivory, Cream, Light yellow glaze, Cadmium yellow lemon, Light cadmium yellow, Light chrome yellow, Cadmium yellow, Dark cadmium yellow, Dark chrome yellow, Cadmium orange, Orange glaze, Dark cadmium orange, Light cadmium red, Scarlet red, Pale geranium lake, Deep scarlet red, Deep red, Middle cadmium red, Permanent carmine, Dark red, Magenta, Madder, Alizarin crimson, Pink carmine, Rose carmine, Fuchsia, Middle purple pink, Light purple pink, Pink madder lake, Light magenta, Light red violet, Red-violet, Crimson, Manganese violet, Violet, Purple violet, Blue violet, Mauve, Delft blue, Dark indigo, Indanthrene blue, Helioblue-reddish, Cobalt blue, Ultramarine, Light ultramarine, Skyblue, Cobalt blue-greenish, Phthalo blue, Middle phthalo blue, Light phthalo blue, Bluish turquoise, Prussian blue, Helio turquoise, Cobalt turqoise, Light cobalt turqoise, Cobalt green, Deep cobalt green, Hooker's green, Dark phthalo green, Chrome oxide green fiery, Phthalo green, Emerald green, Light phthalo green, Light green, Grass green, Leaf green, Permanent green, Permanent green olive, Pine green, Chrome oxide green, Juniper green, Olive green yellowish, May green, Earth green yellowish, Chrome oxide green opaque, Earth green, Caput mortuum, Indian red, Caput mortuum violet, Burnt carmine, Dark flesh, Medium flesh, Light flesh, Cinnamon, Pompeian red, Venetian red, Sanguine, Burnt ochre, Terracotta, Light yellow ochre, Naples yellow, Dark Naples ochre, Green gold, Brown ochre, Raw umber, Bistre, Van Dyck brown, Nougat, Burnt umber, Burnt siena, Walnut brown, Dark sepia, Warm grey VI, Warm grey V, Warm grey IV, Warm grey III, Warm grey II, Warm grey I, Cold grey I, Cold grey II, Cold grey III, Cold grey IV, Cold grey V, Cold grey VI, Payne's grey, Black, Silver, Gold, Copper.
This item is in the category "Crafts\Art Supplies\Drawing & Lettering Supplies\Art Pencils & Charcoal". The seller is "jacksonsartsupplies" and is located in this country: GB. This item can be shipped to United Kingdom.
Brand: Faber Castell
EAN: 5052418289909
MPN: GPRO120W