Irish Guinness Rustic Retro Wood Style Storage Box Chest Trunk 3 Sizes Availab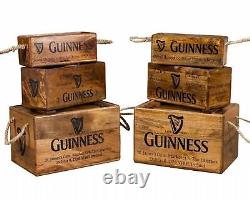 Here we have our newest item in the Retro Vintage Rustic Designed Range. These storage boxes are a unique, rustic, fantastically well created storage solution for anyone looking for where to keep them small bits or for someone just looking to decorate their home! These boxes are available in three different sizes. Complete with rope detailed handles (small box and chest), and rustic carry handle (medium size only) these have a true vintage feel about them and make an absolutely stunning show piece.
Please note: These boxes are handmade and colour painted, therefore the paint finishes may differ very slightly to the box pictured due to it being a natural product.