Royal & Langnickel Deluxe Sketching & Drawing 134pc Wooden Storage Art Box Set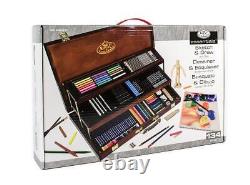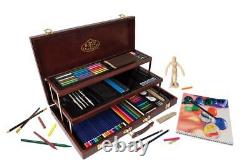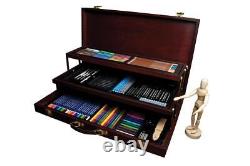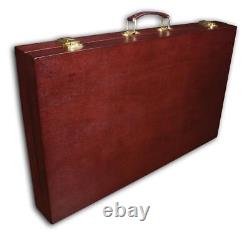 Royal & Langnickel Deluxe Sketching & Drawing 134pc Chest Art Set. A comprehensive set of drawing and sketching media and accessories contained in a deluxe wooden tiered box. There are a total of 134 pieces included in this set. Set Includes: 24 Colour Pencils, 18 Soft Pastels, 12 Woodless Colour Pencils, 12 Graphite Pencils, 12 Pastel Pencils, 12 Compressed Colour Sticks, 6 Sketching Sticks, 6 Charcoal Sticks, 5 Woodless Graphite Pencils, 5 Blending Stump, s 4 Pc Vine Charcoa, l 3 Charcoal Pencils, 3 Woodless Charcoal Pencils, 3 Watercolour Sketch Pencils, 1 Artist Mannequin, 1 6 Ruler, 1 Sandpaper Block, 1 Kneadable Eraser, 1 Drawing Eraser, 1 Sharpener, 1 Artist Guide (Skecthing & Drawing) and 1 Wooden Carrying Case.
Oversized items or items weighing over 2kg will be sent by courier. In some cases, we may not be able to send, depending on location and weight of parcel - in these circumstances we will let you know as soon as possible. While we take the greatest care with all our orders, if there is a problem or the item is damaged or faulty then please let us know and we will do what we can to help. ABOUT THE ART SHOP SKIPTON. Trading for over 20 years, our family run business offers a first class service to the professional, leisure, beginner artists and crafters throughout the UK and internationally.
As a result The Art Shop Skipton staff are always on hand to offer an excellent, knowledgeable and friendly customer service. We stock a huge range of the very best art and craft supplies available and are main stockists of leading brands such as; Winsor & Newton, Daler-Rowney, Reeves, Pebeo, Derwent, Artmaster, Loxley, Unison and many more. Behind the scenes we work hard to ensure that we can offer these quality brands at the lowest possible prices. Whichever option you choose you will be guaranteed the same outstanding level of service.