Conte Paris Artists 84 Carres Pastels and Accessories Wooden Box Set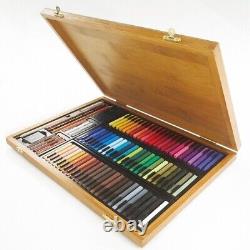 Conte Paris Artists 84 Carres Pastels and Accessories Wooden Box Set. It contains all the 70 Coloured Carre Crayons from Conte + all the 14 Sketching Carres + 1 Piere Noire 2B pencil + 1 Sanguine Pencil + 1 White Sketching Pencil + 1 Eraser + 1 Blending Stump + 1 Tortillon. The set comes in a perfectly finished Wooden box which is perfect for artists on the go. This set makes for a great gift to any dry media / pastel artist. Enjoy working with rich vivid colours of the Conte range. Their rich opacity makes them ideal for work on darker papers and their quality ensures the longevity of sketching & drawings.
Conte a' Paris have been manufacturing some of the finest artists' materials available for more than 200 years. Many artists and grand masters have used Conté à Paris products because of the selection of pigments, lightfastness, and the exceptional brightness and purity of the colours. Conte offers a traditional range of Drawing and Sketching Pencils with a variety of exceptional leads. These pencils are excellent for portrait, landscape and still life work. It is recommended that the barrel alone should be sharpened with a knife and the lead shaped with a scraper or sandpaper.
Conte Carre Crayons are baked with kaolin clay and are firmer than soft pastels, which means they work well on smooth paper as well as textured surfaces. Please visit our shop for more Art&Craft items.