Wooden Travel or Small Space Altar Set Pyrographed Box Pagan Wicca Witchcraft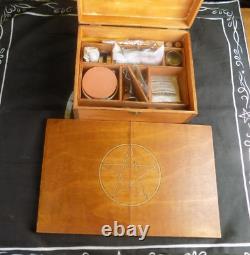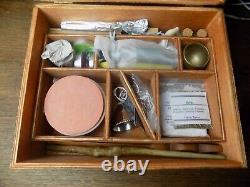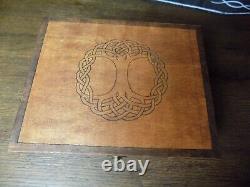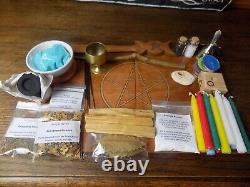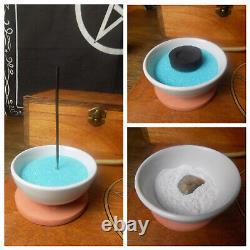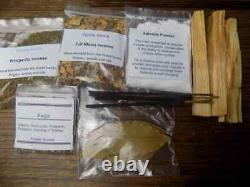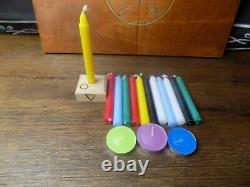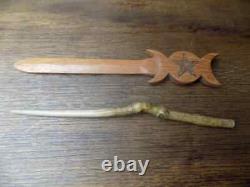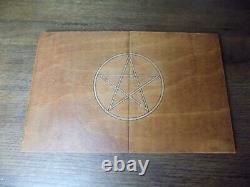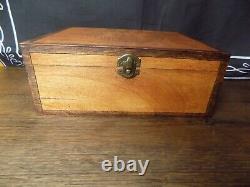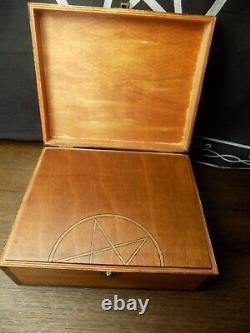 This is a carpenter made travel altar set, also perfect for home if you have no space for a permanent altar. The box is approximately 20 x 25 x10cm and has a hand drawn and pyrograved Tree of Life on the lid. The bottom is subdivided to provide space for all the items you will need and the altar board fits nicely on the top of the dividers.
The board is hinged & folds in the middle, this features a pentagram design which is also hand drawn then pyrograved. The candle holder has been made to provide a tight fit for the spell candle for safety reasons, as this item is made from wood it could burn so should never be left unattended. It features the element symbols around the sides and the spirit symbol on the top. The wand is made from ivy, this has many properties including guarding against negativity and protects you, also seen as a symbol of the Goddess.
The athame is made from Iroko this is an African wood and has strong connections with the elements of air and water. The bowl and sand is used for burning the loose incense on the charcoal disc. The sand is used as it absorbs a lot of the heat.
I would still recommend placing it on the clay'coaster' which is provided, again never leave unattended. You can also push the incense sticks into the sand to hold them while burning. The sand can be emptied back into the bag after use, once cooled, and reused next time.
Finally when the bowl is empty of sand you can place the selenite powder in the bowl to cleanse & charge your crystals, selenite is self-charging. Handmade Wooden Spell Candle Holder. 12 Assorted Colour Spell Candles. 4 Mini Patchouli Incense Sticks. 3 Pieces of Palo Santo.
1 Small Bottle of Black Salt (contains ashes from our Yule log). 1 Small Bottle of Sea Salt. 1'Coaster' For The Bowl. 1 Small Bag of Sage. 2 Bags of Handmade loose Incense (Full Moon & Protection). 1 Bag of Selenite Powder. All of the wood we use when making items is either recycled or comes from fallen or coppiced trees, we never take down a tree. The item photographed is the one you will receive. Please see the photos as these form part of the description. Where possible we use recycled or bio-degradable packaging. We can't usually post on a Saturday due to work commitments.